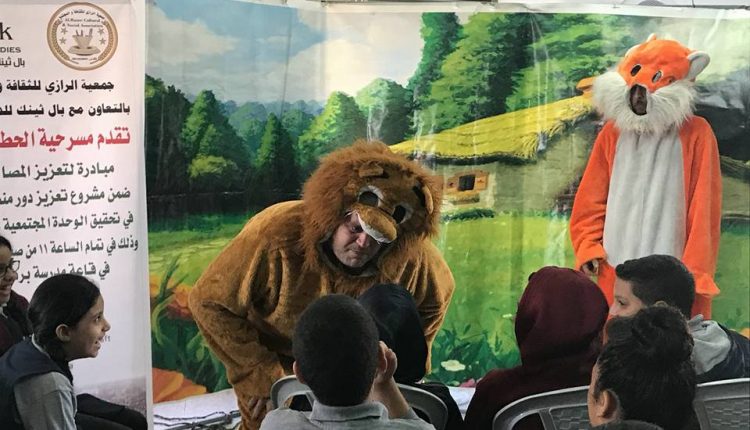 "The Woodcutter and the lion Play" Initiative
In Jerusalem, the Department of Educational Activities at El-Razi Assembly for Culture and Community organized a stage show in Al-Karawan stage. The show was entitled: "The Woodcutter and the Lion". The show was held in the international bridge hall in Beit Hanina; and was attended by the academy students, their families, the faculty members, and the academy administration. It was organized in cooperation with Pal-Think for Strategic Studies in a current project aimed at reinforcing civil society organizations for consolidating the national unity and reconciliation. They consider those goals national tasks that require the participation of all society segments to achieve fully integration, unity, and tolerance.
The audience, after the show, participated in a deep discussion about the show's concepts that are compatible with reconciliation and unity and its necessity. It was noticeable how the show's concepts were centered on amnesty, proper thinking, and use of reason, careful decision making, honesty, and admitting guilt.
The actors of the show were Marwan Awad, Wesam Abu Madi, Dawoud Al-Awar. The head of the assembly, Jameel Dweik, led the discussion with the audience who interestingly connected between the concepts of the show and the reconciliation and social integration. He added that the shows will continue throughout the current month and the next month by the same mechanism and the audience has a great opportunity for participation and discussion.   
"The Woodcutter and the lion Play" Initiative
Prev
1 of 5
Next