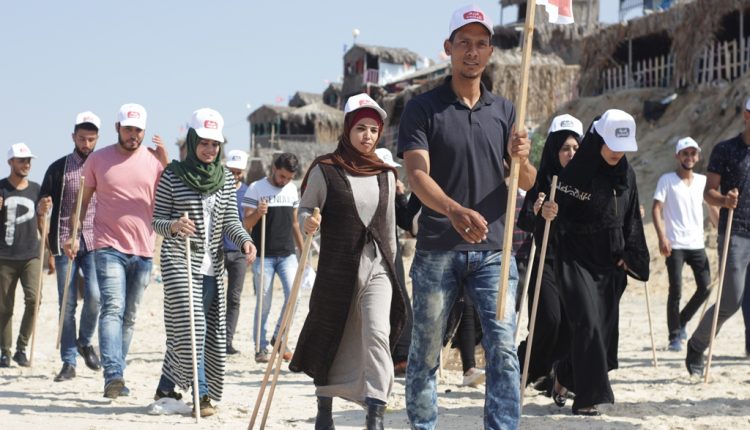 The launch of an initiative called the tolerance Harrah
Gaza, Deir El Balah
In cooperation with Pal-Think for Strategic Studies, Derna Youth Group launched an initiative named the tolerance Harrah in the old neighborhood of Deir El Balah. Dignitaries, men, women, and children participated in the open meeting held in the main street of the old neighborhood. Furthermore, civil society organizations had a role in this initiative.
Mr. Omar Shaaban, the head of Pal-Think for Strategic Studies, confirmed that this initiative is one of other 20 initiatives implemented in the Gaza Strip, the West Bank, and Jerusalem, funded by a Swiss authority.  They are aiming to reinforce the reliable role of civil society organizations in consolidating social unity at the national level. The coordinator of Derna Youth Group, Hassan Abu Safar, said that the idea of the initiative was derived to disseminate the culture of tolerance and cordiality among the Palestinians.  He added that activating the public role as well as the reconciliation are popular demands.
The Initiative activities included many speeches by Mokhtar Deir El Balah, Sameer al Azayzeh, by Mr. Omar Shaaban, the head of Pal-Think for Strategic Studies, by Mr. Waleed al Ahmed, a member of the independent national assembly, form the West Bank via telephone, by Prof. Faten Harb, the chairman of Youth and Environment Assembly, and by Mr. Mohammed Jabr, representing the neighborhood mosque.
The initiative also included a traditional show of the popular Dabka. Deir El Balah band performed traditional songs that warmly expressed the tolerance and community reconciliation spirit. Eventually, the people of the old neighborhood participated along with a group of artists in drawing and painting their Harrah. They drew a great mural entitled "Palestine brings us together".
The launch of an initiative called the tolerance Harrah
Prev
1 of 5
Next