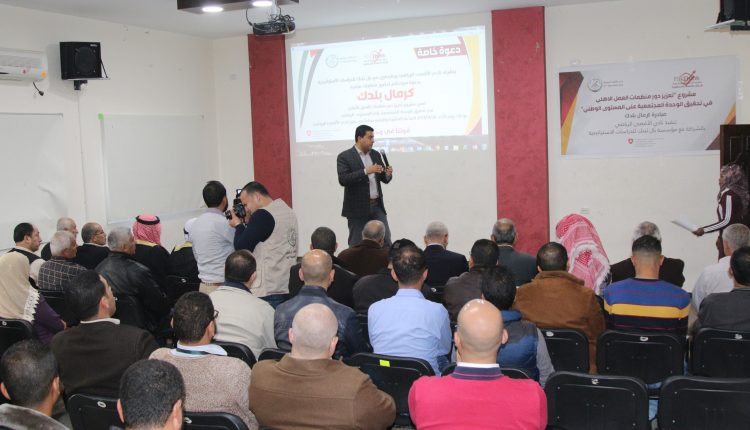 "Kermal Baladak" (For the Sake of your Home) Initiative
Al-Aqsa Sports Club ,in cooperation with Pal-Think for Strategic Studies, held a meeting that included a number of dignitaries, intellectuals and commoners within the initiative of "Kermal Baladak", as a part of "Strengthening Civil Society Organizations Role in achieving community unity at the national level" Project. The meeting started with a word delivered by the head of Al-Aqsa Sports Club, Mr. Baha'a Matar. He asserted the important role played by civil society institutions in the national arena, especially in enhancing the community to complete the national reconciliation and end the abysmal division.
Mr. Omar Sha'aban, the director of Pal-Think stressed that Palestinian unity won't be achieved but by a public advocacy and pressure toward making progress in this issue. He also mentioned the German experience; he elaborated how German people suffered from their crisis for more than 40 years. He added how despite the escalation of events and  
the severity of the confrontation, none of Germans was killed. Furthermore, the crisis ended by a peaceful popular resistance. Mr. Sha'aban wished that the Palestinian reconciliation will be achieved in order to solve all the crises experienced by the Palestinians  since the beginning of the Palestinian political dispute, which left behind a number of victims who paid their lives.
The meeting included many words delivered by several writers and intellectuals, in which they confirmed the urgent need of disseminating the spirit of respect and tolerance within the citizens themselves. They also hope of a unified Palestinian state where the national state would prevail over any interest someday.
"Kermal Baladak" (For the Sake of your Home) Initiative
Prev
1 of 5
Next